Second jabs are critical in the Torres Strait
By MATT NICHOLLS
GETTING your second vaccine jab is just as important as your first and getting them both is crucial to keeping the region safe, says the Torres and Cape Hospital and Health Service.
This week, free community vaccinations will continue at the Thursday Island Bowls Club, the Horn Island stadium and the community hall on Hammond Island.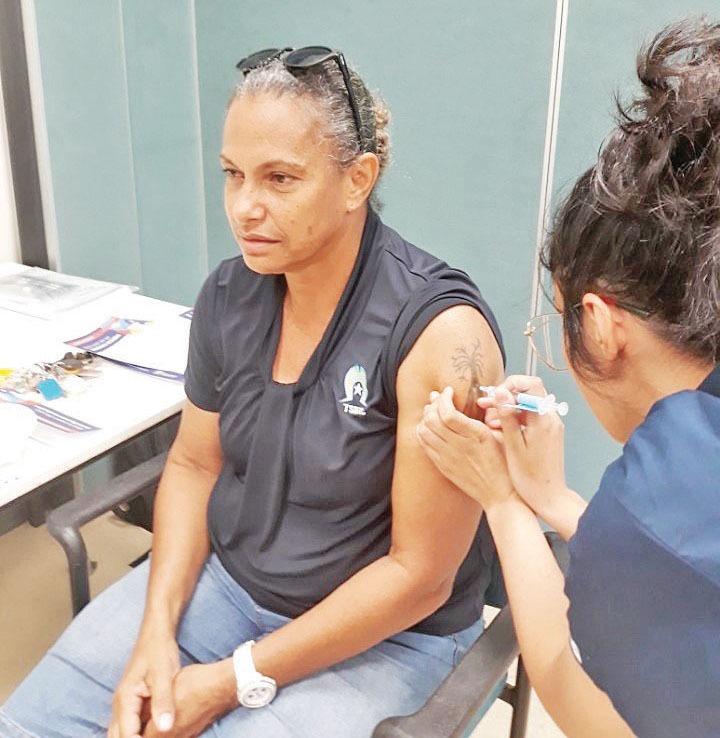 "We will have three separate immunisation teams working," said TCHHS director of medical services Dr Tony Brown.
"So far we appear to be having a good turnout on Thursday Island and we hope for a similar good turnout at the three clinics on Thursday, Hammond and Horn islands.
"No appointments are necessary, and walk-ins are welcome.
"I'd also like to remind people that if they haven't yet received a first dose of COVID-19 vaccine, they can still come to our second dose clinics and have a first dose of Pfizer vaccine."
Dr Brown said more than 500 people so far had received either their second dose of AstraZeneca or second dose of Pfizer on Thursday Island last week.
That number is expected to be higher as it didn't take in Friday afternoon's tally, as well as the numbers from Saturday.
Torres and Cape Hospital and Health Board chair Ella Kris received her second dose of AstraZeneca last week.
Ms Kris said she had suffered no side effects from either dose of vaccine and she was happy to have full protection following her second dose.
"These are challenging times and it is very clear that the pandemic is not over," she said.
"I urge everyone in the Torres Strait, NPA and Cape York to have the vaccination when it becomes available to you."
"It's free and it's the best thing you can do for yourself, your family and your community," the health board chair said.
After finishing up on Thursday, Horn and Hammond islands this week, vaccination teams will move to Ugar (Stephen), Erub (Darnley), Masig (Yorke) and Iama islands from June 21-25 to deliver the first dose of Pfizer vaccine to residents on those islands.
Dr Brown said one team would be on Ugar (Stephen) Island on June 21 and on Erub (Darnley) from June 22-25.
"Simultaneously, a second team will deliver vaccinations to Masig (Yorke) Island on June 21-22 and then Iama Island from June 23-25," he said.
"One team will then move to Badu Island from June 28 to July 2, while a second team will visit Mer (Murray) Island from June 28 to July 2. The teams will be delivering the first dose of Pfizer vaccine to both islands."